On the Air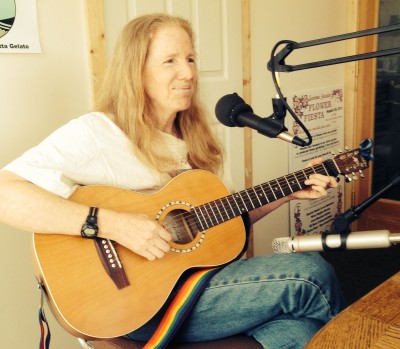 Silver City has an important new resource called Gila Mimbres Community Radio. Anyone can listen online at gmcr.org. It's a breath of fresh air to hear real news and commentary from concerned individuals rather than the commercially sanitized messages that permeate even National Public Radio.
KURU fm is right on Silver City's main drag, Bullard Street, across from the food co-op. We can wave at passing friends through the station's large picture windows.
I've enjoyed several recent on air opportunities. Greg Renfro and Jean Eisenhower asked me to host their Silver City Acoustic show while they attended a Folk Alliance conference. I prepped all day, listening to tracks by the visiting artists I was going to interview, organizing my notes, questions, and station identification breaks. That process gave me tremendous respect for anyone makes a weekly hosting commitment. Though I madly shuffled papers throughout the two-hour program, some friends who listened indicated we sounded seamless enough. Whew.
A few weeks later, Greg and Jean had me on as a guest. Here's that appearance. I was happy to have the chance to discuss not only my music, but also my healing work, retreat center and activism.
This month, Andrew Dahl Bredine and I came to the station to play our Gila river songs. We were promoting the Wild and Scenic Film Festival in support of attempts to resist the river's diversion.
The following morning, Bija Aranow and I joined Paula Geisler's radio show to discuss the threat of geoengineering. Chemtrails poison our air, earth and water, and we must build awareness of this problem if we are to have any hope of sustaining life on the planet. For more information on that topic, please visit geoengineeringwatch.org.