About Azaima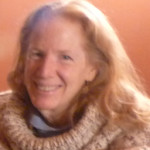 Azaima Anderson is a multi-talented performing songwriter and healing artist, devoted to transformation of herself and others, always guided by a quest for ecstasy, love, harmony and beauty.
In her own words, she describes how she came to embrace the various facets of her work.
Performing Songwriter: My mother, who played jazz piano, taught me how to harmonize before I could write. I've engaged with music in a creative way my whole life.
Astrologer: When I went to business school, a brilliant student with a Masters degree in genetics told me about astrology. I'd always laughed it off, but, on her advice, I saw an astrologer. Astrology is a language I've spoken ever since.
Yoga Teacher: I choose the yogic path because of its immediate results: clearing the body, mind and emotions to make room for spirit to flow.
Spiritual Guide: I have cultivated that flow of spirit with a treasure trove of deepening and uplifting practices that I love to share through retreats, classes, ministry, and healing work.
Shamanic Practitioner: My lifelong love of animals has fostered my desire to communicate nonverbally. The shamanic path fits perfectly with these natural inclinations to connect with seen and unseen beings, and to feel them work through me.
Ultimately all this work is intuitive, but my studies below provided a framework through which intuition could flow.
View Degrees and Certifications
Schedule a session here.